Nina
Sophia Mojares
performed at Asian & Pacific Heritage Festival 2011 in Union Square Park. Her performance was amazing. She is only 12 years old!
Click image below to view movie.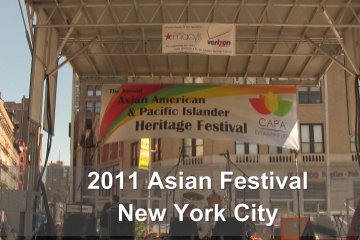 The other members of the group include
Genna Rae Basalatan

Jill Lugtu

Gabriel Basalatan

Morgan Taylor Lopez

Mattie Lopez
About the Event
The 32nd Annual Asian American and Pacific Islander Heritage Festival was held on May 8, 2011 at Union Square Park from noon to 6 PM. Organized by
Coalition of Asian Pacific Americans (CAPA)
since 1979, this annual festival is the longest running and largest event celebrating Pan Asian heritage on the east coast. This year's festival is themed around the journey that Asian Pacific American ancestors have taken to bring us to this moment that celebrates not only the value of families but also our heritage that make us proud to be Asian Pacific Americans.
More than 20,000 visitors are expected for an impressive line-up of performances, fun activities for children and adults alike, and savory samples of Asian cuisine. Numerous Asian American organizations will be present to inform visitors about useful services, volunteer opportunities, and resources to get involved in the community.
The executive director of Coalition of Asian Pacific Americans is
Stephen Chen
.
###