Thirty-six of 107 individuals, more than half of all living Asian American pioneers in U.S. journalism (1925-1975), were honored by the Asian American Journalists Association at the unveiling of AAJA's Honor Roll of Asian American Pioneers in Journalism.
I was honored to work with Suzanne Joe Kai, AAJA-LA board member, and Annabelle Udo-O'Malley, AAJA events and fundraising coordinator, and the
2010 AAJA
National Convention Founders and Pioneers Opening Reception Committee members
Leezel Tanglao
.
AAJA HONOR ROLL names and categories can be seen
here
: Pioneers in U.S. Journalism, Change Agents, Pioneers in Asian Community Press, and Pioneers in Asian American media.
I was honored to photograph many of the pioneers: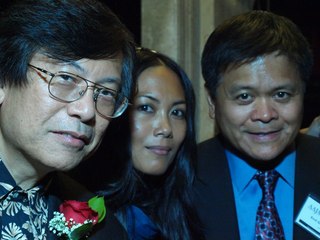 Corky Lee, Anna-belle and Emil